Scrapbooking is all about memories. Well, favorite foods can have some great memories! Whether the foods are yours or your kids, make a scrapbook layout about them so you'll remember in years to come! You might not think right now that there is much to remember, but in years down the road, they are guaranteed to bring a couple good laughs!
My grand daughter was 2-3 years old and she had her favorite foods and of course I had to document them! Her scrapbook would not be complete without these!
This is a case when a scrapbook layout doesn't need any journaling - the memory is there, just not much to say about it but a picture holds a 1,000 memories! This way, you only have to do one scrapbook layout, instead of 1,000 words!!!
At 2 years old, she loved sour cream and onion potatoe chips! The bag was nearly as tall as she was! I used a couple shots of her with the bag of chips. Then I cut the front portion of a bag of her favorite chips and glued it onto cardstock, then glued that onto the back ground page. I did this for the sake of protection from the acid - I have no idea if the bag is acid free or not, so I just did it this way to help the unknown. Each photo is matted on cardstock so the actual photo never touches the bag. I used 1/4:" letterpunch for the letters.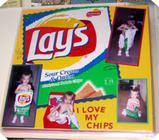 Peanut Butter Princess
She loved PB! So it was hilarous when she got ahold of the near empty jar and took her spoon and chowed-down! I used the same colors, blue and red, as in the jar label. Took the label off the jar and mounted it on cardstock and then on the background page. The letters are 1,1/4" die cut letter punches. Photos are doubled matted.
The border is made with strips cut with a Coluzzle Template.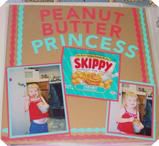 You Make 'Um, I Eat 'Um!
She didn't like the cereal by itself, but she did like the cookie bars you make from the Rice Cripsies. So one day when I was making them with her, I just let her eat off the mixing spoon! Then I cut the front out of the box, and the recipe for the cookie bars from the side. I mounted the front of the box on the layout and added the recipe (matted) by thread. I used eyelets on the recipe card and kind of "hung" it from the box front. That way she will always have that recipe! Photos are matted on cardstock.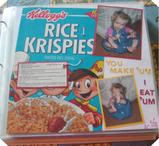 All thses scrapbook layouts are quick, easy and inexpensive. Use your own judgement about the acid free issues of the packages you use.