I love envelopes! They are the best way to be able to add MANY photos to a single layout! And there is so much you can do with a single envelope! You can make envelopes any size you want. Adhere them on the background page any way you want. Make so many beautiful and amazing closures for the envelopes. And the list goes on.
Sometimes you have a lot of photos you'd like on a layout but can't possibly put them on on mattes and on the background page - Envelopes make it possible to put many photos on a single layout. Just make the size of envy you want and cut your photos that same size and BINGO! Slide the photos in the envelope and you got a fantastic layout with LOTS of photos!
Cut multiple sheets of cardstock the same size as the envelope and use them for journaling. You can say alot in one envelope!
Have some memorabilia or other little items you want on the layout but no way to adhere them to the background page? Slide them into an envelope!
Envelopes make for a fun, interactive feature to a scrapbook layout - it is fun and intriguing to "untie" the closure to see what's inside the envelope!
Use vellum, or cardstock, solid or pattern. Anything works! The possiblities are endless! And envelopes are so easy to make and you can make them to match any theme or style of scrapbook layout.
I found this pattern for a 2x3" envelope in my huge stock of scrapbooking supplies and things and thought I'd share it.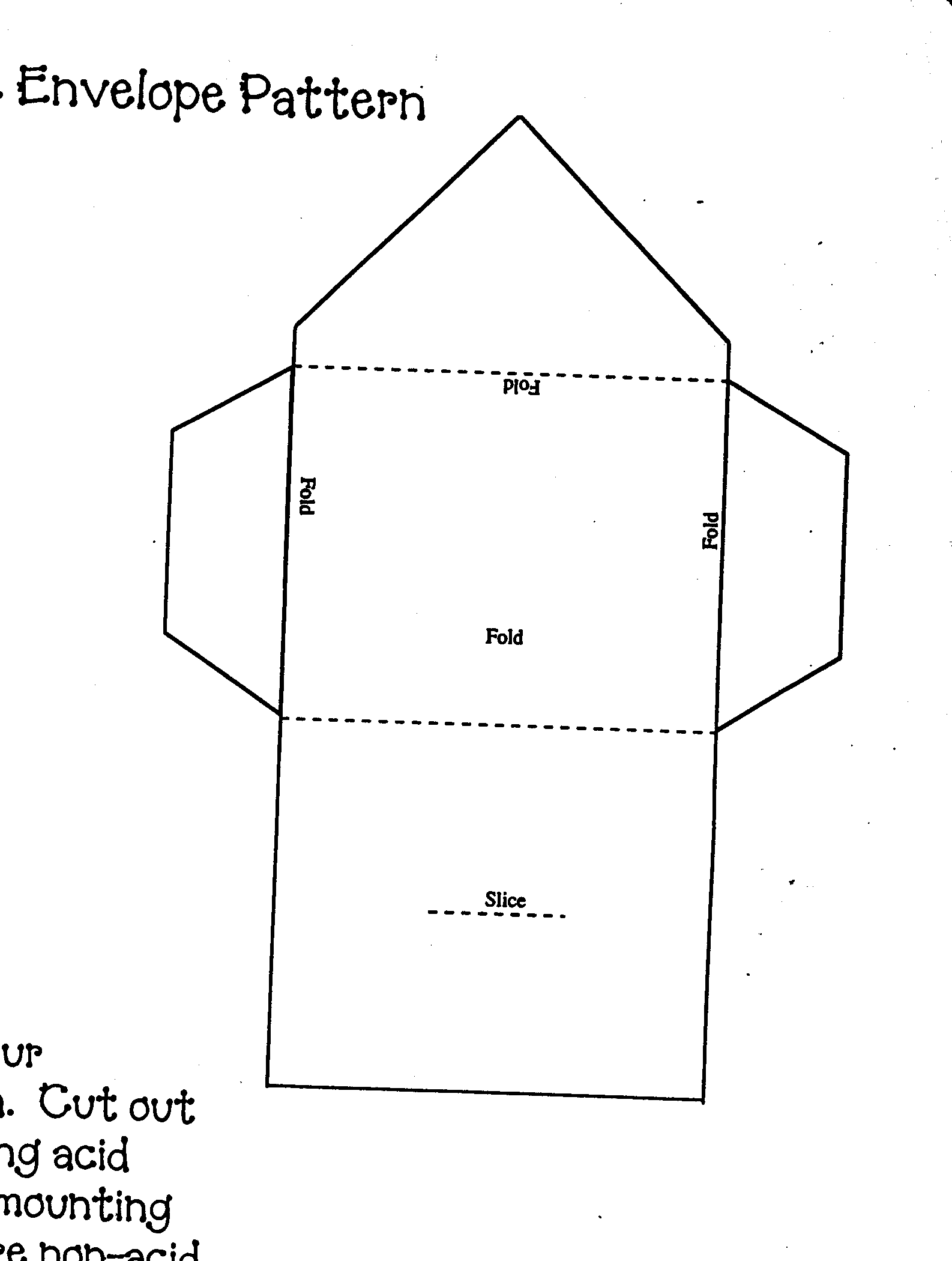 Also, if you look at this article, it has other options for creating and using envelopes. I have created all these myself. I love creating the closure - there is just so much you can do and so many ways to make the flap close to accomodate the layout!
How To Make An Envelope
Click on the image above and it will take you to another page where you can save and print it. I tried to make it the size you could just copy onto an 8x10 sheet of paper and get actual 2x3" size of envelope, but couldn't figure out how to do that so you can just print it out as is and then make a copy and use the ENLARGE feature on the machine - or if you know how to enlarge it on your computer photo editing program, you could do it that way. This is not my original pattern. I know who is the the creator of the pattern, but I thank whoever did it!