As a youngster, my family moved alot. I don't remember the specific years, but I remember the moves by the schools that I went to and what house I lived in. I wanted to preserve the memories I have of each house, but again, so much time has past. This scrapbook layout is in my album called "My Life". It is just about my life, so there are other references to the houses I lived in, but I wanted memories of each house to go along with the photos. Most of the memories listed are literally about the house itself - that cool stair case or the favorite places we played or that closet that we turned into our own "library" so we could play library!
SCRAPBOOK LAYOUT DESCRIPTION
I took the specific memories of each house and journaled about them, and then included a photo of each house. The first 3 are in California, the fourth one is in Ohio and the fifth one is back in California - a 20 year span of time on a 2 page 8x10 spread! I even remembered the address and most of the phone numbers!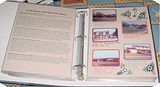 SCRAPBOOK TECHNIQUES USED
This scrapbook layout is called a "double page spread" as it is 2 pages for the same layout. This one is 8x10 in size and in page protectors. It is quick and easy (quick, once the memories are journaled!) I just typed the journaling on cardstock, seperated into a paragraph per house, used a corner rounder punch for the photos and the mattes and matted each photo onto cardstock. I didn't want the layout to get to "buzy" so I just added some handmade punch art flowers in the corners. I put the address and phone numbers below each photo
Another way I have done this (in my siblings albums I made them) was to create a "post card" of each photo. I put the photo on the right side of the card (in the place where you would normally write a note) and then on the address side, I put the address of the house. Turned out really cute!
Paper trimmer, cardstock, photo adhesive, computer typing for journaling, corner rounded punch, gel pen, handmade punch art, glue stick.
Quick, easy and inexpensive!