There is so much available in the scrapbooking world these days, that it seems there is no limit. There is something for every event, theme, happening, time, era, person, place, thing and then some. Scrapbooking is all about using different items to preserve a memory. And you have those items! You don't always have to get your embellishments at a store!
Some memories are so personal and deeply felt, that a purchased embellishment and a photo, just don't convey the memory. So what do you do? All you have to do is look "outside of the box". You have things you could use, you just don't know it as you don't think "scrapbooking" when you look at them.
The Baby T-Shirt
This is a scrapbook layout that is very dear to me. It is the t-shirt my son got in the hospital when he was born. Because it is the actual shirt he wore is a memory in itself - "my little boy, who is now 24, wore that shirt!" This is a memory a photo couldn't give. It also reminds me of how small he was and how I loved to hold him and rock him to sleep. The T-shirt is a tiny little thing, fits perfectly on a 12x12 scrapbook layout page! A black background page, the shirt, a title and a few stickers. Quick and easy, but holds the most precious memories for me. (the glare is from the camera flash)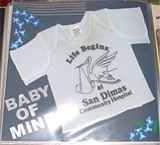 Now, back in the "old-days", baby formula stained. Hard as I tried, I couldn't get that stain out. However, now that I am day-caring HIS baby girl, I notice how far things have come - baby formula no longer stains! A new memory created - cheesey, but a memory nevertheless! I adhered the t-shirt to the back ground cardstock with the photo adhesive squares. Some on the back of the shirt and some on the inside to hold the two layers together. Once in a page protector, there is no sliding. Everything is secure and protected.
The Title is a Memory Too!
The title is also quite a memory. "Baby of Mine" is the name of a song in the Disney movie, "Dumbo" - the song that Mrs. Jumbo sang to her baby, Dumbo. This movie was my son's most favorite movie when he was in pre-school and kindergarten. MANY mornings I couldn't get him out of bed unless I turned this movie on. Once he heard the movie, he was up and ready to go! I use metallic silver scrapbooking paper and a letter punch to make the letters. You could use any alphabet template if you don't have a punch system.
Other Embellishments
This layout is quick and easy. The only other embellishments I used were some color matching, floral stickers and some thin strips of the silver metallic paper, which I cut using a paper trimmer. It just needed a little "something" extra to compliment the layout since the t-shirt was so large and filled the layout page.
So take a look around at what you have. Memories are everywhere. There is more to scrapping than what's in the stores! Just think "Scrapbook" as you look around and see what memories you can find!