One of my favorite themes to scrapbook is a "then and now" theme. I have lots of "extra" photos of when my kids were little and can't bear to throw them away. I have found that this style of scrapbooking a layout is just perfect. Uses up the extra photos, but more importantly, creates even more memories and wonderful feelings for everyone!

Also, are you behind? Well, that is a common place to be in scrapbooking, so don't be hard on yourself! This style of scrapbooking is absolutely fantastic way to get caught up while you create and preserve memories for all involved!
In this layout I used shiney, gold paper and my letter punch and punched out the letters for the title. My intention was to have "Disney Years" because the layout is of my grand daughter's first trip to Disneyland when she was about 3 years old. I also had extra photos of when her mother (my daughter) was at Disneyland when she was little. I wanted to incorporate both girls at the same place, at similar ages, but in different times! Move over time travel! Then and now, before and after! Oh, the memories!

The Perfect Title

I didn't notice it until I layed the letters out, that I was short a Y. But, there before my eyes, was the perfect title! Disneyears! Why? What is the first thing you think of when you think Disneyland? Mickey Mouse and of course, his EARS! And what is the point I am trying to convey? YEARS of time span between mother and daughter doing the same thing! Ears and years, take away a Y and you have it - Disneyears! It was perfect!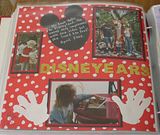 Do You See Mickey Mouse and Minnie Mouse? Look Closely!
Well, you won't find them in the photos, but since you just can't have a Disneyland scrapbook layout without these two entities, I included them......
in theory!
The background paper I used was a red with white dots... which is what? Minnie Mouse's dress pattern! I double matted the photos with red and black cardstock which is .... Mickey Mouse's colors! I used a black die cut of a Mickey Mouse head and used white gel pen for the journaling. I also found Mickey's white-gloved "hands" die cuts and used those to kind of "hold" one of the photos as often Mickey Mouse is holding his hands out to welcome you to his kingdom.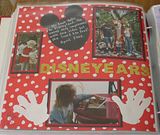 This layout started with a mistake. Had I not made a simple mistake, it probably would have just been your usual "Trip to Disneyland" layout. But thanks to that mistake, the memories are of Disneyland with my daughter - about 20 years ago, Disneyland with my grand daughter about 3 years ago and once that far, I can't help but remember my amazing trips to Disneyland when I was a kid - 30 years ago! Wow! Talk about time travel!!