With all that goes on in high school, graduation seems to be the main topic everyone scraps. But there is more to the high school years, than just graduation! Ever thought of making a scrapbook layout to show ALL 6 years in high school? Every high schooler has to get a Student ID card the first of every year. In 7th and 8th grade that is so cool as it is their first form of ID! And kids usually save their Student ID's year after year. But what do you do with them when all is said and done? How can you throw something like your last 6 years of ID away!!
You don't! You make a layout!
Scrapbook Layout Description
This layout is of my son's 6 years of high school - which includes 2 years of Junior High. He was going to throw the ID's away when he moved out, but he knew he'd better check with mom first, so he asked me if I wanted them. Need I tell you whether I said yes or no?!

I wanted to use the cards in chronological order with his graduation announcement the final "step" through his high school years.
Scrapbook Techniques Used
I layed the ID cards out on the page in the year formation I liked. I used jute twine as my form of "continuation" or the path to follow "through the years". I then used a hole punch and punched a hole in a corner of each card in different corners, so that I could loop and twist the jute through each hole and wind it around and down the page, connecting each card and ending at the announcement. I used adhesive photo squares to secure the cards to the background page. The jute is not secured, excepet on the back of each card near the hole to keep the jute in place.






The announcement is a tri-fold style. I glued the back (middle section) to the layout background page. Then I slide the layout into the page protector. Using a craft knife, I carefully make a slit at the top fold and one at the bottom fold of the announcement so that the top and bottom of the announcement could slide through, thereby being able to be opened once in the album.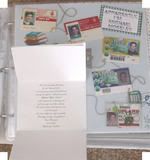 A few "back to school" theme stickers completed the layout.

When I gave the layout to my son, he was amazed and stared at it for the longest time and every time he gets the album out he spends time looking at this layout. I can only imagen the memories going through his head about those years of his life!


Scrapbook Tools Used

Cardstock, hole punch, adhesive photo squares, jute twine, stickers, Student ID cards, Graduation announcement,