Enter into the world of scrapping your 8x10's!
You can use this method for 8x10's of adults or children, individuals or partners, groups or events - even your pets!

Using portraits in your scrapbooks is not the first thing you think of when you scrap. You always think of snap shots. But how many of those 8x10 or 5x7 memories can you frame and put on the wall? I admit, I have a hallway with nothing but 8x10's and 5x7's covering both sides of the walls - a shrine to my kids! Helps me not to miss them so much and I smile every time I walk down that hallway! But even I have to call it quits on framing them!

So I went back and took the ones that I had not framed and was keeping in page protectors in a notebook. Deciding how to scrap them was my next delima. At that point in time, I had not heard of anyone scrapping larger than 4x6 so I didn't have anything to refer to for help.

In looking at the ones I had, it suddenly became clear. I had 2 kids and it only made scrapbooking-memory-sense to scrap them together at the same age, even though they are 4 years apart.
Scrapbook Layout Description
I choose 2 8x10's of them together. I picked out a nice print background paper that matched the colors in the portraits. Then I matted the 8x10's on contrasting cardstock 2 times with 1/4 inch borders. I then cut out a large star die cut and put in their ages using small sticker letters. I placed them facing each other in the scrapbook. I can now see them both together, but with their 4 years age seperation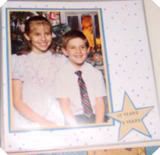 I then took 2, 8x10's of each of them at the same age. I used white cardstock for the background. I matted each 8x10, 3 times with contrasting cardstock leaving a 1/4 inch border on each matte. Then I used 1 inch square die cuts and placed a 3/4" sticker letter to spell their names down the side of the layout. I added a simple 1/4" strip of the same cardstock I used for the squares to seperate the names from the portrait. In the lower right hand corner, I used a 1 inch square and put their age. Again, these are facing each other in my album. It is so great to see them at the same age!
And it is a great way to scrap any 8x10 of anyone or anything you might have!
And if you don't have sticker letters, you can use ink stamps, chalks, stencils or just free-hand it!
Quick, easy and oh,so inexpensive!
Scrapbook Techniques Used
No specific technique used. Just basic matting and dating.
Paper Trimmer, square punch, letter stickers, photo square adhesive, star die cut.
Quick, easy and oh, so inexpensive! Doesn't get much better than that!