Have you ever tried Magic Mesh in your scrapbook layouts? It is a great embellishment and not very expensive. It makes for a wonderful dimensional feature on your scrapbook page.
Magic Mesh is a strip of "netting", although it is fabric. Usually it is about 3 feet by 2" wide. It is sticky on one side, so you just cut your length and stick it down! Quick and easy!! You can lay it on cardstock, over a photo or anywhere you like. It is a speciality scrapbook made item, so it is acid free. It gives dimension to your layouts in a soft, easy kind of way. Magic Mesh is a good embellishment to achieve that "old fashioned" look or "antique look". The darker colors are good to get that effect. Use the brighter colors for a "funky" look.
I used to buy it often (until I got stocked up!) and it is not to expensive, at least the way I bought it. I used to shop the online scrapbook stores - I kept a BUNCH of them in my Favorite Places and usually at the end of the month, I would surfed them all and check out their sales. I never paid full price for anything. When I'd find it on sale, I'd buy a couple colors. I was paying about $1.89 or less for a 3 foot length. It goes quite far - you can use it 2" wide or cut it in half and have 6 feet of 1"! But usually because of the short lengths you use, you will still get several layouts out of it.
Scrapbook Layout Description - 12 x 12 layout
In this first layout,
"The Proper Way To Eat an Oreo Cookie",
I used 2 different sizes of Magic Mesh. The large "square" at the top of the layout is 2" by about 4 inches. The other smaller piece is 1" x3". This just shows that you can use any size you like. It was when my son taught his little neice how to twist the cookie apart, eat off the white icing and then throw away the cookie!! We had a talk about that!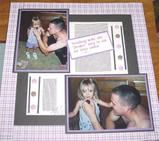 I used purple as that was the color my grand daughter was wearing so I pulled that color from the photos and used it as the main color. The background page is a patten print in purple. I added a larger piece of black cardstock - about 10"x10" to the middle of the page. I then added a piece of white cardstock, about 9"x9" to the center of the black cardstock. I double matted the photos on purple and black. The Magic Mesh is placed as shown and then I added tiny buttons and a thin strip of the black and purple cardstocks for embellishment.
The title is typed on computer onto white cardstock and matted. Notice that it is placed crooked instead of straight. That is something that is good to do, to keep the layout from getting monotonous since I used so many squares. This layout is a case where the Title holds the memory. There wasn't really anything to journal about. They ate cookies. What's to say about that? But I look at it now and remember how funny they were together. It's just a funny memory.
This second layout -
THANKSGIVING

,
I used the Magic Mesh as a title strip across the middle of the page and then with my letter punch, punched out 1,1/4" letters using a pattern paper of fall leaves. The colors just added to the "fall, thanksgiving" theme. I used several leaf punches that I have and punched a variety of leaves in the fall colors and just "sprinkled" them around the layout. The background paper is just white 12x12 cardstock.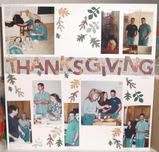 I cropped the photos so just the people show up, not all the background. I got alot of family members in this way. I didn't matte the photos. I used a gel pen to write everyones name and the date


Both of these layouts are quick and easy and can be used for children or all adult themes.