A great idea for a scrapbook layout overflowing with memories, is to show what you did as a child and what your child is doing now - at the same age! It is really amazing the same and differences between the generation ages. This is great for the back to school going right now - start some layouts and have them ready to add those wonderful papers that will be coming home!
Scrapbook Layout Description
The first layout is a spelling test I took when I was in the 6th grade - 1968. I got a B!!! Later, in 1994 when my son was in the 6th grade, he took a spelling test and got a 100%! I had to scrapbook our tests! Our handwritting is similar, the words are similar - and you can't see it very well, but the tests were taken about 26 years apart, NEARLY TO THE DAY!!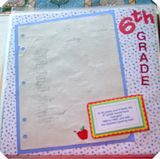 Now granted, you might not have tests or papers from your school days, but scrapbook the kids papers anyway. You'll have that memory plus you'll be preparing for the memory you can give your grandkids when they bring home a paper to match the one mommy or daddy did when they were "their age" back in the olden days!!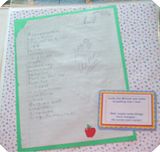 Scrapbooking Techniques Used
I used the same background paper (12x12) and I matted the tests on acid free cardstock and used die cut letters on one to show it was the 6th grade for both of us. Then I added a bit of journaling on the PC and matted 3 times for that school/primary color theme and used the decorative scissors to cut some deckle edges to the mattes.
Quick, easy, inexpensive, yet oh, so full of memories!