In the case of scrapbooking, it is okay to compare your children! To each other, but more important to the memory aspect - compare them to their parents at that same age.. or to their grand parents at that age! Memories and laughter will be the results! They say times change, people change but in some cases, nothing changes - the memory just gets adjusted!
Scrapbook Layout Description - 12x12 layout
While taking photos of my grand daughter, I was amazed at how many photos I ended up taking that were the same situation or posse that I took of her mother 20 years ago! It wasn't on purpose, just cute things she did and when I got to scrapping them, a memory hit and I looked back in my stock of photos and there it was...the same situation, 20 years ago, with another little girl, that could be a twin to my grand daughter! It made for a perfect scrapbook layout. Mother and daughter doing the same thing 20 years apart. Who says times change?!
And there isn't/wasn't any memory to actual journal about. What do you say about washing a truck? But in this case, just looking at the photos creates memories on its own. Remember when she was that little? Remember how cute she was? Look how much they look alike at that age! Those kinds of memories - the ones that can't be written down, but just stay in your memory banks and come forward when you see the layout. It is almost like creating new memories, now that you see them together!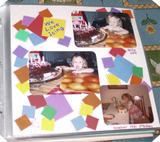 "We Love Icing"
-
The top 2 photos are of my grand daughter "sneaking" a taste of the icing on a birthday cake. The lower photo is my daughter (her mother) "sneaking" a taste of the icing on a birthday cake 20 years earlier! Mother is a bit older than daughter in these photos, but the "sneaking" was obviously inherited!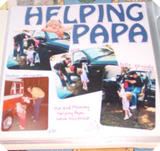 "Helping Papa":
The top 3 photos in this layout are of my grand daughter helping her Papa wash his truck. The lower photo is her mother - 20 years ago at the same age, helping her Daddy wash his truck. Although some things never change, (you know men and their trucks!), these 2 little girls are definately related! Notice the little sillouette of my grand daughter looking over the one photo at the top!
In this layout, my daughter at age 2(top right) is watching her daddy shave. 20 years later, my grand daughter(lower left) is watching Papa shave! Why kids are so mesmerized by that shaving trick is beyond me, but they seem to like it! And look at the two girls... not much change there - they look alike! However, there are other memories - look at the difference in the razors used and the changes in Dadd/Papa!

Scrapbook Techniques Used

These layouts are quick, easy and inexpensive. This helps for getting layouts done and staying current!
For "We Love Icing", I used a corner round on the photo's corners and didn't matte them, just adhered them to the background paper. Then using different sizes of square die cuts , I scattered them around the page - for a confetti effect since the picture was at a birthday party. On the one biggest square die cut, I used tiny letter stickers for the title "We Love Icing" and then added names and dates.

In the "Helping Papa" scrapbook page, I cut a sillouette of my grand daughter and proped it up on top of the one photo like she is looking over the photo to the layout. It was just a litte extra thing I added. I had just learned about sillouetting, and just had to use it! I also used a corner rounder on the photos, no mattes and just wrote names and dates below the photos. The only extra feature was die cut letters - I bought them for 5¢ each and used them for the title. But what I did that you can't see in the picture is, once I had the letters adhered to the page, I took a scrapbook marker and did a "dash" line around each letter - just to help them stand out a bit better.
For the "Little Girls Don't Shave" I used mulberry paper and cut it into the shapes needed to matte the photos and the title letters. Title letters are die cuts - 1,1/2" in size. To cut mulberry paper and have that frayed edge, use a Q-tip and trace the shape. Then tear where it is wet. When dried, it makes a wonderful dimensional effect. The embellishment at the top - just another square of mulbery paper and a piece of Twistel shaped to a bow and a button on top.
Corner rounder punch, die cut letters and squares, scrapbook marker, scissors, mulberry paper, button, Twistel, adhesive squares, glue stick, tiny letter stickers, white cardstock for the background paper.