This is possible! And it doesn't take much of anything. In Scrapbooking, there are so many avenues you can take to create the perfect scrapbook layout for your albums.
I never quite got into stamping - another expense that I just couldn't afford so I only minorly dabbled. I saw a fern leaf stamp that was so cool and I had a 40% off coupon at the local craft store, so I got the stamp. Then next week, when I had another 40% of coupon I got a green ink pad.
Put two and two together and what have you got? A great scrapbook layout background! Change color of inks and you can have more backgrounds! Use glitters and embossing and you have even more. And it all started with 1 stamp.
I never really knew my grand father. They lived in Ohio, we lived in California. But we did visit a few times and I remember those times dearly. So I did a scrapbook layout about Grandpa. Had a only few photos but alot of memories about the man himself and things he did or said. And I loved the house he built and lived in all his life. I lived in the same house he built for a few months! So I did a 4 page spread to use all that I had and make sure I got everything I remembered all in one place.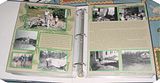 I have used the fern leaf stamp on the cardstock to make a "outdoor-zy" kind of background. Just stamp the leaf all over, in different ways. Then matted the photos with green cardstock. Click the image to get a larger view of the page.
That middle page is a 8x10 cut down about 1/3 of the way and in a page protector. This way I can see the photo on the 4th page, while having the journaling about those photos. Turn the page and there are more photos and journaling.
I did alot with 4 page spreads and cutting the middle page in half. I will have some more about that procedure in articles to come.