In looking around your house for embellishments to use in your scrapbook layouts, did you find a short piece of thin rope in your junk drawer? Hopefully, you didn't throw it away!! I found a piece and here's what I did with it.
My grand daughter learned to love horses at an early age, thanks to some rocking horses that I had. This is a memory that I like, but using just one photo - there isn't much to say and how many layouts do you do about this one memory! She is cute in each of the photos. but a different age in each photo. Don't waste your time and supplies making a scrapbook layout for each photo. Use them all in one layout.
There wasn't much to journal about the memory - just that she looked so cute. This is a case where the title says it all. Wheather whimsey or specific, the title is often the only journaling a layout needs. "Riding The Range" - the perfect title for the layout and since we are misplaced Texans, it just hit home to me!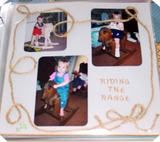 I just took the rope and wound it around to a nice design on the background paper. Then using a glue stick, just traced the winding line that the rope laid on and pressed it down! The ends I tied into a bow. Your eye just follows the rope around the photos. Notice that I overlapped a short length of the rope onto one of the photos. It didn't "hide" anything, just added a bit of dimension to the layout. (The photo shows that the rope goes over her face. It isn't like that. It just pulled off by mistake when I slide the layout into the page protector! I have fixed that and will be more careful next time!)
Quick, easy and SO inexpensive!!!