How do you document time spans in your scrapbook layouts? You'd be surprised at how many memories you get when you combine time, people and the same setting! This is also a great way to use those "extra" photos. In this case, you are not necessarily documenting a specific memory, but more a period or time that holds the memory. In this scrapbook layout, I show my son's age's, his growing up, the memory he carried throughout the years, a place that meant alot to him and was special. You and yours often have those same kinds of places - and wonderful memories. Scrapbook them!
We spent alot of time at my parents house. Both living and visiting. The backyard had these huge boulders for decoration. My kids loved playing on those boulders. They were my son's most favorite place in the world. Those huge rocks were forts from the bad guys, huge ships afloat and secret hide-outs!
As the years went by, my son grew up and the rocks got smaller (at least they seemed to!) but the memories abounded!
Scrapbook Layout Description
Scrapbooking wasn't around then, but I still was taking pictures! I put these together and a "through the Rocks of Ages" was born. 3 picures of my son at different ages, on those same rocks. Each picture is the same rock, same kid, just years apart - just look at the memories!!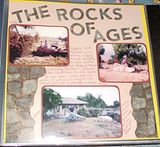 The first is both my kids sitting on the rocks reading together. My son was 3.
The second is my son's creation of "Fort Nordstrom" and his keeping the prairie safe! (the flag was a red shopping bag from Nordstroms!". My son was 10
The third is his last visit to his beloved rocks before the house was sold. He was 21. (He also had his wedding photos taken by the rocks but I had made this layout before then!)
The jouranling is my own handwritting. I wanted the theme to be a little on the rustic side. I used a pattern paper of rocks and just cut a strip out, cutting around the rocks and used them to enhance the rustic rock theme. The letters are also die cut out of this same rock paper and I just single matted the photos. A date beside each photo. Talk about a walk through the years!
Scrapbook Techniques Used
: Matting, die cut letters, handwritting journaling, paper cut-outs.
Scrapbook Tools Used:
Paper trimmer, corner rounder punch, scissors, glue stick, letter punches.
Scrapbook Skill Level:
Beginner, easy, quick and inexpensive.