Some things that you do, you can use that same idea in your layout. I used to take my grand daughter to "Storybook Time" at the book store on Tuesday nights. She loved it! So, when I made the layout for that special time, I made a "story book" to go on the layout and put the journaling inside the story book! Turned out really cute and now - 4 years later - she looks at that layout and loves opening that little story book! And she even remembers going to "Storybook Time"! It is a favorite memory of hers!
Scrapbook Layout Description
This is a 12x12 layout.
I have created a "storybook" flip-open kind of "book" for the journaling.
The outside of the "storybook" has the title of the layout "Story Book Time" and the date. On the inside cover of the "book" I have added another photo and the journaling (on the computer in color) is on the other side of the book. I made a "tassel" bookmark out of embroidery floss to hang in the middle of the "book" for decoration as well as being the "book mark" feature. Other photos are cut in different sizes and shapes and I did not matte them.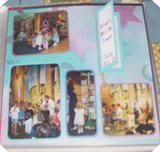 This shows the book closed.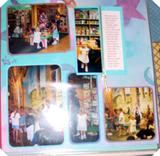 This shows the book open
Scrapbook Techniques Used
This layout is on a pattern paper - big pastel stars - kind of like having the "You're a Star" theme. I did not matte the photos, just cut them all different sizes.
To make the "book", I just cut a piece of card stock to the size I wanted and then folded it in half. With white cardstock, I cut it just smaller than the cover of the "book" and glued it to the front cover. I used colorful letter stickers to create the title "Story Book Time" and the date. I cut a photo the same size as the inside cover and adhered it with adhesive squares.
For the journaling side, I typed out my journaling on the computer, did it in a red and whimsey font. I did some measuring so that it would only print a few words per line so that it would be long and narrow like the book, then glued it to the back of the "book".
For the "bookmark" tassel: I took a few strands of embroidery floss, braided them and made tassels at the ends. The unfinished end, I folded over and glued it to the back of the book then glued the whole book to the background paper.
Tip: make the fold of the book kind of wide, so that it lays flat once the bookmark is in there - using a embossing stylis tool, use the wide ball end instead of the small ball end.
Scrapbook Tools Used
Computer, embroidery floss, embossing stylis to make folding line, glue stick, adhesive squares,corner rounder, card stock
So again, except for a bit of computer time, this layout is quick, easy and inexpensive!