Scrapbook layouts can be tailored, whimsical, elegant, bulky, ornate and the list goes on. But sometimes plain and simple preserves the memory every bit as good! And oh, for the simple things in life to make the memories!
When I took these photos it was because it was so cute.. my son and his new neice. Here is this big, tough man with a 9 month old little girl giving him havok - and she is winning!
Once developed, and I was deciding how to scrap the photos, I noticed that there was a progression of movement in these photos. My first thought was comic book! What a great idea! So I put them in sequence and then started thinking of captions for each photo.
It started with my son looking through the local paper to buy a truck. Little neice climbed in his lap and started "looking at the paper with him". So that is where I started. The sequence of the photos starts with them "looking" at the paper, then her taking it from him, then getting done and thowing the paper away!!
The captions read:
"Let's look through this paper, Kellie"
"Give it to me Uncle Michael, I'll find you a truck!"
"Nothing in here but junk, Uncle Michael"
"Here - throw this away!"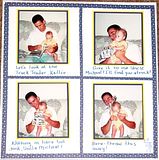 I doubled-matted each photo with solid yellow and solid blue. I then placed the matted photos in a square design. Using yellow/blue pattern paper, I cut strips to "frame" each photo and caption. And we are done! A quick and easy scrapbook layout and all it took was some scraps and glue! Doesn't get much easier than that! And we laugh at this one every time as, now 6 yrs old, the little girl still gets the best of the rough, tough man!