I'd like to say I remember my "space" or bedrooms throughout the years. I had quite a few as we moved alot, but quite frankly, all remember is that I had to share with my sister from the day she was born till the day I got married. I remember white, French Provencial furniture and PINK PINK PINK!!!! Other than that, I don't remember any of the things I collected, any decorations, nothing. Oh, except that my sister would hide her alarm clock under the bed as it rang SO LOUD it'd startled me awake in fear! So she hide it under the bed so I couldn't find it and turn it off! Some memory!!
My son had such a collection in his bedroom of several things that really meant a great deal to him. His hopes and dreams, his heros and passions. I wanted to preserve that for him. So what better way to preserve it than in a scrapbook layout! Now married, a police officer and a new daddy - he looks at this scrapbook layout and I can tell he is remembering a wonderful time in his life.
His Dreams: Bull riding and being a cowboy. His heros: John Wayne and the Nutcracker. His hopes: Being a police officer. His passion: A proud American and American History buff.
I took pictures of each "area" of his room - the book case, the posters, pictures on the wall. Some pictures I sillouetted, some I left "as is". I titled the layout "My Room" and the date. I used just some red/white/blue sticker strips and a piece of scrap paper from a american layout in the corner. This layout shows that you can include year's of memories in just one layout and still have the full impact.
One wall was full of pictures of his hero - John Wayne. I collected them from a variety of places and the one he got in Tombstone, AZ held a very special memory on its own. Also is a full size cardboard image of John Wayne! Also on this wall is his bull riding gear. He never got to do that dream but it is a fond memory for him. But he did get a life-size, stand-up poster of Ty Murry - World Champion Bull Rider, several years in a row!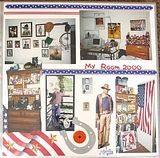 Next was his computer - he was a wiz! And the bull riding and the Alamo posters above it were his heart's dream. The Alamo posters were ones we got when we went to that sacred place in history and even visited John Wayne's reproduction of the Alamo for his 1960 movie.
The top of one dresser is full of 57 Nutcrackers - all different. When he was 5 he heard that story on cassette tape and Nutcracker became his hero and he loved collecting them. Each one is different. On the bookcase are his VHS tapes of all the Duke's movies he collected, his books and movies about WWII as he was a history buff about the subject, topped off by the American Flag.
What's in your child's "space"? What memories does your child's room have for them? These memories are ones that you don't want your child to forget, but might not be something you can make a specific layout of. Put all the memories together and what have you got? Memories galore - on one scrapbook page layout!
Also notice how quick and easy this layout is. I only used a few "left over" sticker strips and a piece of a flag pattern paper and some sticker letters. I sillouetted some of the photos, others left uncropped.