While we are all taking photos of everything in our lives to preserve the memories in our scrapbooks, there is alot of lifes memories that we don't bother to document, but boy the memories that are there! So while making your own memories, don't forget to document the HISTORY in you life! You really don't want to forget "what it was like back then" or "what was going on back then". That's all part of memories for your scrapbooks.

So how do you scrapbook history that doesn't have any photos? JOURNAL! Journal what life was about "back then". Journal what happened in your life time. It didn't happen directly to you, but it was going on in the world, made a difference in the world, was was hot, a fad or quirky for the times and especially the things that changed your life or made history that year.

Find things that happened in the year you were born, or the year you graduated from high school or the year your first child was born. Just type it up on cardstock, matte it and mount it! No photos required!

This layout is of June 1982. It is a 12x12, double page spread. I used white cardstock and double matte on a shade to match the date. I used 3 inch stencils for the letters and date.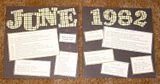 Things I included:
Who was President/Vice President that year
Top 10 Songs of that year
What happened that month in past years (June 1752 Ben Franklin's kite is struck by lightening!)
What happened during that month and year. (June 4, 1982 - The Wrath of Khan premiers)
The price of different things: loaf of bread, gallon of gas, milk, house price, price of a car
Hot/popular toys of that year
Top movies and TV shows of that year.
To get things that happened in a specific year, try Scopes Systems. Here you can input your month and year, and it will give you all kinds of great things that happened that month and year. Pick and choose which ones meant/mean something to you or changed your life (or the world) or had special meaning to you.
Another way to "remember the years" with no photos, is to document things that happened in Hollywood! Remember your favorite movie that year? Favorite actor? You can get some things from American Film Institute about TV, celebrities and movies in past years. They partiularly have a category called "Top 100 Years..." for movies and TV shows that were rated 1-100 in the last Century in different categories, like:
AFI's Top 100 MOVIE QUOTES (a no brainer on #1)
AFI's Top 100 PASSIONS (romance movies)
AFI's Top 100 SONGS
AFI's 100 THRILLS
You're going to have a blast from the past as you go here to find your scrapping information. Better bookmark it - you're going to want to go back!
This is a layout using the Top 100 Thriller Movies of the Century. I just typed them out on 2, 8x10 pieces of cardstock and printed the list out on the computer. (I am only showing one side, but this is a 12x12, double page spread) Then used a film strip die cut and a die cut of a movie camera. Quick, easy and oh, the memories!! And not a picture was needed.
Another layout I did was one I called Top (50) TV Shows of All Time. How Seinfeld made #1 over I Love Lucy, is a total fluke in my book, but what happens, happens! On this layout I copied from
TV Guide the covers of the ones that had my favorite shows and inserted this small "photo" into the film strip die cut. See- there's I Love Lucy right at the top like she should be!

I just added a few paper strips (from scrap paper) and the layout is done in minutes...quick, easy, and inexpensively!
So scrapbook the history in your life time. There are lots of memories there that you will want to remember in years to come.